IOW Car Club
Our events are focused on car control rather than outright speed – most courses will only ever require 1st gear and stay below 30mph, the usually last around 60seconds.. This makes our events very competitive with often the top 10 times spread over only 2/3 seconds, it also means you don't need a purpose built car to be competitive, 90% of your time will be down to the skill of the driver rather than how fit for purpose the car is!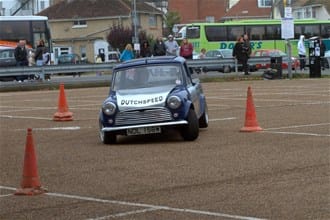 IOWCC Ventnor Botanic Garden 2016 Highlights
New for 2014 Wight Karting. Opening in April 2014 this purpose built 500m all weather track will add junior and adult adrenaline action to the Island's list of must-do's. Its located behind Tesco's on the out skirts of Ryde.
Wightlink Warriors. 
Speedway is back on the Island for the 2016 season. Situated at Smallbrook on the outskirts of Ryde. See the site for their home fixture dates.
V-Dub Island –Aug
A must for all Volkswagen owners' new and old, enthusiasts and like-minded people, V-Dub Island on the beautiful Isle of Wight is a fantastic long weekend of entertainment, heaps of fun and much much more.The event will include entertainment from start to finish including the best in live music and DJs. There will also be many attractions and stalls across the event site.
Jaguar Enthusiasts Club Show  Aug  (10 miles)
Relive our Show held at the Isle of Wight Steam Railway on 4th August 2013. A 100 Jaguars and nearly the same number of other cars and motorcycles provided a great display and the sun shone on a wonderful day of entertainment! Make a note in your diary for next year – Sunday 10th August 2014 – hope to see you there….
Classic Car Show  16th & 17th Sept 2017 (9.5 Newport & 8 miles Ryde)
The 2013 Isle of Wight Classic Car Show takes place on Saturday 14th and Sunday 15th September.  A unique collection of cherished classic cars will be on display at this increasingly popular event.